RICS March survey finds improved sentiment in the rental market
April 20th 2021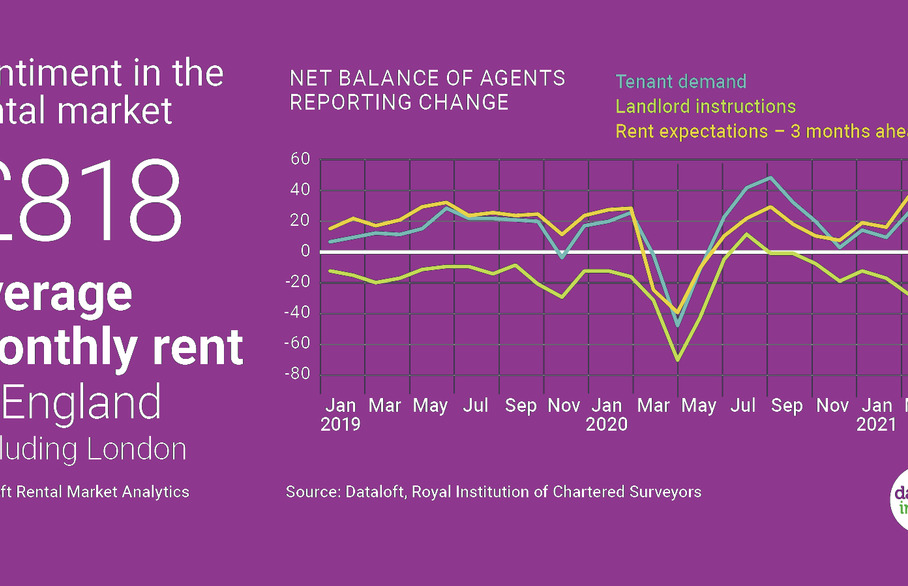 The RICS March survey, gauging the mood of agents, showed continued improvement in the lettings market.
Tenant demand has continued to increase, with a net balance of +36%. In contrast, landlord instructions continue to fall, with a net balance of -25%.
The imbalance between demand and supply has put upward pressure on rents. +47% of agents report positive rent expectations, with rents expected to increase by just under 3% over the next 12 months.
According to Dataloft Rental Market Analytics, the average monthly rent in England (excl London) is £818, and £1,712 in Greater London. Source: Dataloft, Royal Institution of Chartered Surveyors
Georgina Wakeman, Joint Lettings Director commented on the findings, "We are seeing the same across our network. New property instructions are being snapped up by our tenants as soon as they come to market. We are working with our current landlords to support those who are looking to increase their rental portfolio with identifying suitable properties as well as advising on what our tenants are currently asking for. We're also supporting past landlords who are looking to come back to the market to capitalise on this trend.
We have found that the restrictions that came with Covid-19 safety measures have created demand from renters and buyers moving away from London and smaller properties to the more rural areas with more space. All of the locations across the Davis Tate network are ideally placed for this, offering a beautiful rural setting whilst still commutable to key areas of work such as London and Reading."
Contact us today
If you are looking for a new investment property, thinking about letting out your current property or looking to switch your property management company - then we can help.
Contact us today to discuss further:
Georgina Wakeman MNAEA MARLA, Joint Lettings Director
t: 0118 359 3135 e: Georgina.Wakeman@davistate.com
Claire Tier MNAEA MARLA, Joint Lettings Director
t: 0118 958 7979 e: Claire.Tier@davistate.com