Win a £10 Smyths voucher - Christmas colouring competition 2022
December 5th 2022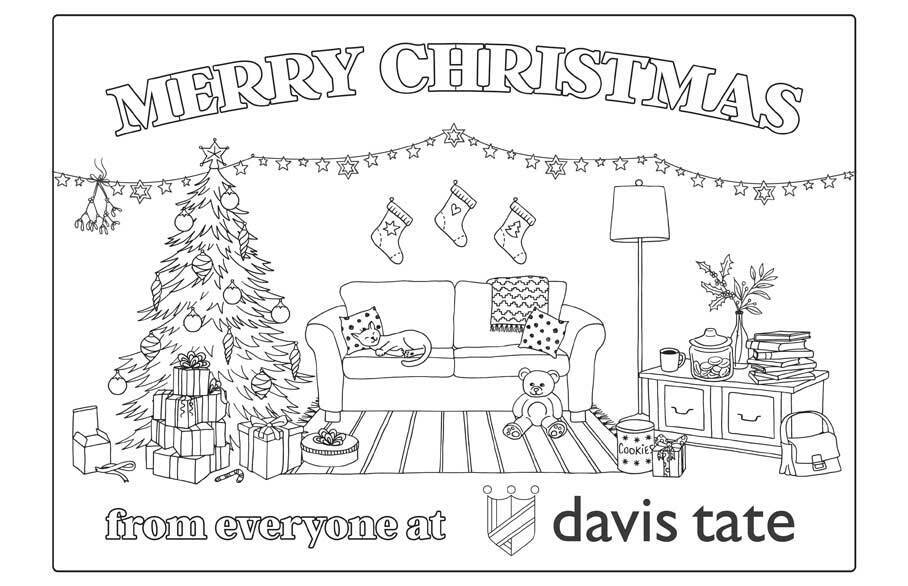 Davis Tate Christmas 2022 colouring competition
Win a £10 Smyths Toys Superstores voucher!
For your chance to win, simply colour in and post a photo of your picture to the Davis Tate Facebook page before 16th December 2022. Good luck!
Colouring Competition – Terms and Conditions
The Davis Tate Christmas 2022 Colouring Competition (the "Competition") is open to children aged 3-7 years ("You").

To enter the Competition, You should colour in ONE of the specially created Davis Tate Christmas colouring sheets and post a photo of it on the pinned competition post on the Davis Tate Facebook page (www.facebook.com/DavisTateEstateAgents/) with your first name and age before midnight (11.59pm) on Friday 16th December 2022.

You may only submit one entry to this promotion. Entries over the maximum number of entries will be void and will not be entered into this promotion.

Details of the winners will be shared on the Davis Tate Facebook page, www.facebook.com/DavisTateEstateAgents and on our website at www.davistate.com/colouring.

By submitting an entry to the Competition, You agree to Davis Tate publishing your entry, your first name and age for the sole purpose of identifying You as the author of your entry and winner of the Competition.

Employees of Davis Tate and the wider LSL Property Services Plc Group are ineligible to enter this competition.

Staff members from Davis Tate will select 5 winning entries. The winning entries will be those considered to be the most original, festive and well-coloured pictures.

Davis Tate's decision will be made on or before 23rd December 2022. The decision is final, and no correspondence will be entered into.

Submitting an entry to the Competition means that You accept these Terms and Conditions. You must check with your parent or guardian that they are happy for You to enter the Competition based on these Terms and Conditions.

The winners will each receive a £10 Smyths Toys Superstores voucher.

Winners will be notified through Facebook Messenger on or before Friday 23rd December 2022. Prizes will be posted to the winners as soon as possible after your parent or guardian has confirmed the delivery address. Davis Tate reserves the right to select another winner in accordance with the process described above if the initial winner does not respond within 7 days of being notified by Davis Tate.

The prizes cannot be exchanged or transferred by You and cannot be redeemed by You for cash or any other prizes.

We will substitute the prizes with other prizes of similar value in the event that the original prizes offered are not available.

We take no responsibility for entries that are lost, delayed, misdirected or incomplete or cannot be delivered or entered for any reason.

Insofar as is permitted by law, Davis Tate accepts no responsibility for any damage, loss, liabilities, injury or disappointment incurred or suffered by You as a result of entering the Competition or accepting the prize.

Your entry will not be returned to You.

No purchase is necessary.

The Promoter of the Competition is Davis Tate Limited whose registered number is 04405992 and registered office is Howard House, 3 St Mary's Court, Blossom Street, York, YO24 1AH. Any complaints regarding the Competition should be sent to this address.

The Competition shall be governed by and construed in accordance with the laws of England and any disputes shall be subject to the non-exclusive jurisdiction of the English courts.
You can download additional copies of the colouring sheet here.