Agents Customer Experience Awards 2021 - Davis Tate Winners
November 18th 2021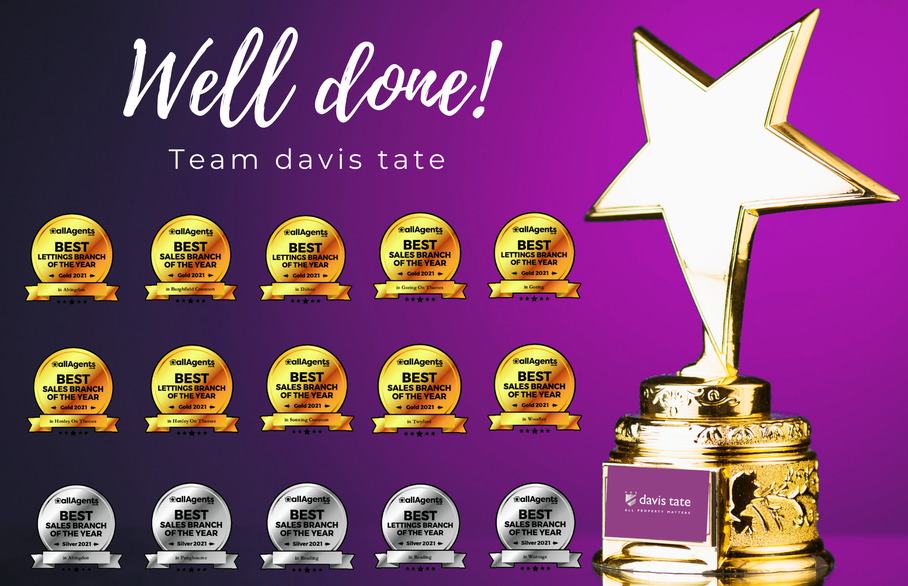 Celebrating allAgents Customer Experience Awards
On Friday 12 November Davis Tate were delighted to receive no fewer than 10 Gold and 5 Silver Awards at the 2021 allAgents Annual Customer Experience Awards. A fantastic recognition for all the Davis Tate team being rated the best in the UK property industry for 2021.
Davis Tate Award Winning Team
Tony Gibson, Managing Director at Davis Tate said: "I am super, super proud of the Davis Tate team as I watch these awards online. These awards and recognition are earned with every conversation, every interaction, every kind word, and every extra mile gone."
Tony praised the work of the Davis Tate team saying: "Our customers may not remember exactly what you said or what you did – but they will ALWAYS, ALWAYS remember how you made them feel - valued, important & that they and their move mattered. Thank you to everyone at Davis Tate. Please don't ever underestimate the impact you have on our customers lives, dreams and aspirations. You help make them happen".
Best Sales Agent Awards
Gold Awards: Burghfield Common, Goring, Henley-on-Thames, Sonning Common, Twyford, Woodley.
Silver Awards: Abingdon, Reading, Pangbourne, Wantage.
Best Lettings Agent Awards
Gold Awards: Abingdon, Didcot, Goring, Henley-on-Thames.
Silver Awards: Reading
Your guarantee of excellent customer service
The allAgents Annual Awards scores agents based purely on what their customers think over a twelve-month period. Every year each agent starts from the same place giving everyone an equal opportunity to become the best in the UK property industry.
Agents are judged locally, in an area, a county and nationally. Unlike other awards schemes the awards are not chosen by colleagues, trade bodies, journalists or peers - they are chosen by those who pay the price in cash and experience - the consumers.
AllAgents Award winners represent the very best of the UK property industry and consumers can be reassured that anyone of the annual winners meet the highest expectations for customer service.
What is allAgents?
allAgents.co.uk is an independent review site for estate agents, letting agents and anyone involved in the property chain in the UK. It's aim is to help consumers make a more informed decision on which estate or letting agent they choose.
Allagents encourages both past and existing customers to place reviews about their experiences with an estate agent. Consumers can find real unbiased reviews from people just like them who have previously bought, sold, rented or let a home from an estate or letting agent in the UK.
How does a customer leave a review?
Customers can write a review for any estate agent or letting agent within the United Kingdom. Customers write an account of their experience with their agent and must also score their agent overall on a 5 star rating scale. All reviewers must follow the review code and be fair and honest in what they write. All reviews are moderated and checked for authenticity using a unique scoring system and pass a human review before being published.
Why should I leave a review with allAgents?
Being able to read unbiased reviews from real people reduces the uncertainty, fear and doubt normally associated with using a new or unknown provider in the UK property market.
Consumers can be reassured that they are dealing with an agent who has customer interests at the heart of all they do. By choosing to use only agents with mostly positive reviews and who regularly reply to the reviews left by customers on allAgents.co.uk, they can have peace of mind.
Consumers are most likely to trust recommendations from people they know. Research shows that consumers trust peer recommendations more than they trust advertising.
Contact the Davis Tate team
At Davis Tate we'll do all we can to deliver the best experience for our customers. Simply contact your local Davis Tate branch.